Deadly Doll Dog Halloween Costume For Dogs - Chucky-Inspired Dog Costume
CALMING PUP'S 
 MEGA 50% OFF SALE!
A TERRIFYINGLY PAW-SOME COSTUME FOR YOUR BEST BUD! 🐾
Give your pal a spooktacular time this Halloween with our Good Dog Halloween Costume!
Make treat or treating more fun when you dress up your fur baby to make the day worth celebrating! Its front walking design turns your pet into an adorable walking killer doll, complete with crazy hair and foam knife! 
WHY YOU'LL LOVE THE GOOD DOG HALLOWEEN COSTUME:
✔ HAVE A SPOOK-TACULAR TIME AND A GOOD LAUGH THIS HALLOWEEN 2020: Get your buddy into the Halloween spirit and have a good laugh with this cute and spooky Chucky-inspired costume! 
✔ MAKES DRESS-UP EASIER: Designed with velcro straps and ribbon ties. No need to struggle when putting on and removing the costume.
✔ LIGHTWEIGHT AND COMFY: They won't feel like they have something on! This costume is made with polyester cotton that is lightweight, comfy, and non-irritating. They'll be able to move around without restraints.
✔ FOR SMALL TO LARGE FURRY FRIENDS: Different size options are available. You'll be able to find one that fits your puppers and doggos!
CHOOSE THE RIGHT SIZING FOR YOUR FURRY FRIEND:
What does the package include?

1 pc costume (adjustable)

1 pc wig (adjustable)

1 pc foam knife

What Are You Waiting For? Secure Yours Today By Clicking The Blue 'Add To Cart' Button!
Shipping & Deliveries ✈️
United States:
Order Today & Get 8-12 Business Days Delivery! (After Receiving Tracking)
Generally delivery times are around 8-12 business days, not including weekends after receiving a tracking number.
Australia, UK, CANADA & Other Countries:
Deliveries outside USA will need 10-15 business days delivery due to location being outside United States. Additional time (1 Additional Week) may be present depending on delivery location outside USA.
We don't support PO box deliveries. Please place other shipping address. Thank you!

Extra Delivery Notes: Wagg'' Furr Smileee!!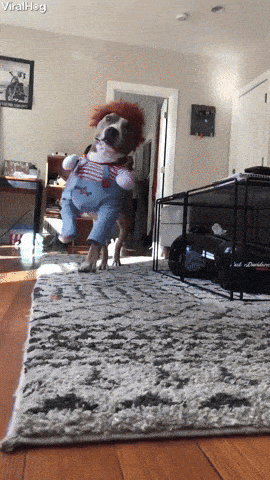 The Best Customer Experience For You!
We want you to have the best customer experience with online shopping, we are willing to go above and beyond to ensure you are happy with your purchase. 
We promise, you will not feel left out after shopping with us.
We will always make sure to manually give you updates for your order almost everyday! (Literally)
We truly hope you shop with us, support Calming Pup and we hope you give your fur kids the best dog products we have to offer!
Save 50% OFF Today + FREE USA Express Delivery
Click The Blue Add To Cart NOW!