Portable Dog Water Bottle by Calming Pup
Do you want to easily hydrate your beloved dog when you're running, hiking or traveling? 
Are you tired of using a messy dog water bowl?
60% OFF SALE ENDS VERY SOON!
CALMING PUPS BEST SELLING PORTABLE DOG WATER BOTTLE
Our Calming Pups Portable Dog's Bottle is the best solution to hydrating your dog while on the go! Let's say you decide to take your dog out for a walk. Since it's really hot outside, you grab your trusty Dog's Bottle™ and quickly fill it with Water. 
Then you put on the bowl and close it with a swift motion.
You leave the door and spend some time walking around, enjoying the fresh summer air. After a while you notice your dog panting. It's time to whip out the bottle and flick the safety to open!
And push the button to dispense the cool water for your dog. 
With dogs sharp senses, it notices the water flowing out. Your dog bolts towards you, eager to finally drink some water!
The best part: Your dog gets to drink while it's favourite human is holding the
Dog's Bottle™! At the same time, you get to interact with your best boy/girl even while it's drinking!
Your dog has quenched it's thirst! Mission accomplished!
But Wait!
There is still some leftover water! - No worries! Simply drain back the leftovers!
BENEFITS & FEATURES!
🐶 EASY TO USE ONE HANDED OPERATION - Calming Pups Pets dog water bottle is designed to be easily used with just one hand. Use one thumb to dispense the water with one button, feed your dog, retract the remaining water and lock the bottle. All this whilst letting you keep a hold of your dog's leash with your other hand.
🐶 LEAK PROOF DESIGN - You want to know when you carry your pet water bottle for walking, hiking or camping, that it won't leak. This dog travel accessory has a silicon leak proof seal and a lock button to prevent any spills.
🐶 PORTABLE & LIGHTWEIGHT - Perfect for dog walks! Light dog travel accessories are important, so our small capacity size bottle weighs only 135 grams and our big pet water bottle only 160g (without water). We made it this way so you don't think twice before taking your bottle with you to the beach, walking, hiking or travelling on any adventure.
🐶 LARGE & SMALL OPTIONS - We love that dogs come in all sizes and so should our pet travel accessories. With 350ml and 550ml sizes you can cater for just one small puppy all the way up to multiple large dogs. Bottle attachments are interchangeable between cups / troughs.
🐶 HEALTHY ALTERNATIVE TO PUBLIC WATER BOWLS - Nothing worries a dog owner more than wondering whether your puppy or dog should drink from a public bowl but we want to keep our furry friends well hydrated, especially in the hot Australian climate
SAY NO TO THESE!
60% OFF SALE ENDS VERY SOON!
Our Response With COVID-19 Delays
With the current rise of supply chain and logistics limitations, production times are severely impacted. Flights all over the world are currently on pause with almost 90% disruption of flights and deliveries. 
Everything required to produce our quality products, to the workers, to the logistics flights and crews, is currently limited which may affect both production & delivery times.
We really appreciate every support we can get to support our mission and we appreciate your support in the original quality & founders of Calming Dog Beds. We appreciate you supporting us and it helps us stay afloat during these tough times.
If you are willing to wait 30-45 Business Days for deliveries to take in place. Please do support us and we will do everything as necessary to get your orders delivered in good faith.
We thank you so much once again for your support in the original calming beds & our store and we can't wait for your pups to sleep in our popular loved beds & other products!
We do appreciate all the support we can get from our valued customers. 
Shipping & Deliveries ✈️
Good News! Our Shipping Speed Has Improved!
Since our USA factories & shipping department was forcefully closed due to COVID-19 lock-downs. We have prepared our backup facilities from around the world such as, Australia, Europe, Vietnam, and China to be our back-up facilities. 
Quality of the beds will be the same (In fact better! We have extra fur added within these worldwide factories at no additional costs to you!) 
Generally delivery times are around 12-15 business days not including weekends after after receiving a tracking number.
Important Delivery Note: 
By ordering, please note that COVID delays may be present depending in your postal location and it may affect the estimated delivery date as we posted above. 
Please note that there may or may not be extra delays involved due to lock-down restrictions, so delays could take up to an extra week or two. 
General Average Shipping Speed: 
Processing & Packing: 24-48 Hours (Monday - Friday) Weekend orders will be done following Monday work week.
Dispatch & Tracking: 3-5 Business Days (Monday - Friday) Weekend orders will be done following Monday work week.
After Tracking Is Given: Average delivery is 12-15 Business Days (Monday - Friday) Important Note: After Receiving The Tracking Number 
Additional Delays Due To COVID: 3-5 Business Days Extra. (Due to COVID19, delays may be present, these are only rough estimated shipping timeframes)

Total Average Time: 12-15 Buss. Days or 15-20 Business Days (Not Including Weekends)
Extra Delivery Notes: Wagg'' Furr Smileee!!
 - We don't support PO box deliveries. Please place other shipping address. Thank you!
- Delivery address cannot be changed once ordered, in any case you wish to change after ordering, you will be liable for reshipment costs once we have confirmed an updated address with you (if and as applicable).
We Thank You For Your Support In Our Store!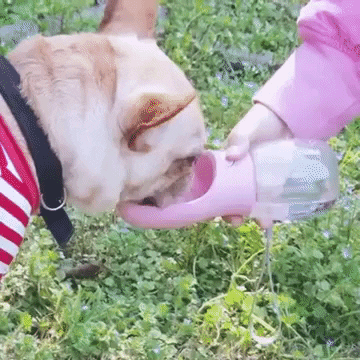 The Best Customer Experience To You!
We want you to have the best customer experience with online shopping, we are willing to go above and beyond to ensure you are happy with your purchase. 
We promise, you will not feel left out after shopping with us <3 We will always make sure to manually give you updates for your order almost everyday! (Literally)
We truly hope you shop with us, support Calming Pup and we hope you give your fur kids the best sleep they deserve! 
60% OFF SALE ENDS VERY SOON!
Imagine Joy Of Your FUR KIDS Will Have! It Will Truly Change Their Lives!
Give Your Loved Ones 

The Best Doggy Gift Ever!
&
Click the Blue Add To Cart Button